THE ULTIMA TURNTABLE IS A SUPER SOUNDING LUXURY TURNTABLE MODEL EXCLUSIVELY MADE OF THE VERY BEST MATERIALS POSSIBLE. UNIQUELY HANDMADE PLINTH IN WHITE OAK, PRODUCED BY EXTREMELY SKILLED HARDWOOD SPECIALISTS. THE ULTIMA IS MADE OF FINEST QUALITY HARDWOODS, WITH THIN AND VERY ELEGANT GRAINS. EXPENSIVE BUT BEAUTIFUL. NATURAL POLISHED OAK OR DYED WITH A GREY/BLACK DYE, MOONDUST ANTHRACITE. BOTH SURFACES MAKES THE ULTIMA PRESENTS ITSELF SOFT AND SMOOTH. ALUMINIUM PARTS SUCH AS LASERCUT FACEPLATE AND 3D-MILLED ANTI-VIBRATION FEET ARE PROFESSIONALLY ANODIZED ACCORDING TO THE DS/EN ISO 7599 STANDARD. THIS ISO STANDARD IS IDENTICAL TO THE ONE USED BY I.E. BANG & OLUFSEN – AUDI – JAGUAR – DESIGNER GLASSES – EXPENSIVE WATCHES ETC. THE SURFACE INSURES A PERFECT, ELEGANT AND SCRATCH-PROOF APPEARANCE FOR YEARS AHEAD. THE ULTIMA PLINTH IS CAREFULLY DAMPENED EVERYWHERE ON THE INSIDE AS IS THE BACKSIDE OF THE TURNTABLES FLOATING SUSPENSION. THIS PROVIDES A PRECISION, A FIRMNESS AND A DEPTH IN THE SOUND REPRODUCTION. IT BRINGS MUSICALITY TO YOUR SPEAKERS AND EARS. THE ARMBOARD IS ALSO LASERCUT FOR PRECISION, EASY-FIT VERSION WHICH IT EASIY TO REPLACE ONE TONEARM FOR ANOTHER. THE ULTIMA COMES WITH SILVER NOTE OR ORIGIN TONEARM. ADVANCED SOLID ALUMINUM SUSPENSION AND A 10MM BEARING MADE FROM VIDIA STEEL. PREMOTEC MOTOR WITH ELECTRONIC CLUTCH FOR SOFT START AND REDUCED VOLTAGE WHEN TURNING FOR MINIMALIZING VIBRATIONS.
New ULTIMA: 2nd Edition
SANDWICH BITUMEN-MUTED DOUBLE LAYER ALUMINUM SUB-CHASSIS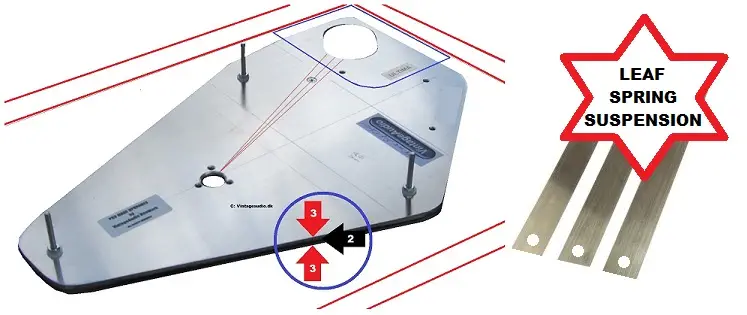 NEW VERSION: STAINLESS STEEL – SMOKED OAK or MOONDUST ANTHRACITE PLINTH – SOLID ALUMINUM SUSPENSION – VIDIA / COPPER BEARINGS – CARBON STEEL SPRINGS – UPSIDE / DOWN LEVELLING – EASY-FIT ADJUSTABLE SANDWICH ARMBOARD in ALUMINUM ENHANCED SMOKED OAK – NEW ViaBlue SILVER Cables / Tac-5 Connector for Tonearm – NEW ADVANCED CONTROL BOARD – NEW PREMOTEC MOTOR w/ ELECTRONIC CLUTCH and NEW 5mm. RUBBER MAT. No Composite – No Plastic – No Plywood – No Nonsense Only the very best materials are used – Not Cheap – Not Expensive – Custom Versions possible Follow website in the following weeks, CLOSE-UPS of PROFESSIONALLY MADE PARTS will emerge as we go along. ULTIMA by VintageAudio

---
All attempts regarding commercial sale of comparable kits indicating a copy of materials or a conversion are according to UK / EU LBK §1144 not allowed without the approval of Vintage Audio All parts of an Ultima Kit set is 100% professionally produced on behalf of Vintage Audio – This protection not least in consideration of current / future buyers of an original Ultima Kit Abuse of the above as well as the Ultima name in this context will be prosecuted without notice. The copyright gives VintageAudio exclusive rights to produce copies of the work, as well as exclusive rights to make the work available to the public – for example. by sale and public performance. Copyright also means that the work may not be copied, imitated or altered in a way that violates VintageAudio. Possibly. Attempts to commercialize the Ultima models lead to an application with economic compensation requirements without further warning. P.76-76.2: Is an infringement of the provisions of subsection 1, Nos. 1 and 2, committed intentionally and in aggravating circumstances to reproduce the works or generations covered by the provisions or to disseminate copies thereof, the sentence may be imprisoned for 1 year and 6 months. Sharp circumstances are considered to exist in particular if the violations occur commercially. DK: Ophavsretten giver VintageAudio eneret til at fremstille eksemplarer af værket, samt eneret til at gøre værket tilgængeligt over for Offentligheden – f.eks. ved salg og offentlig fremførelse. Ophavsretten medfører endvidere, at værket ikke må kopieres, efterlignes eller ændres på en måde, som er krænkende for VintageAudio. Evt. forsøg på handelsmæssig kopiering af Ultima-modellerne medfører uden yderligere advarsel en stævning med økonomisk godtgørelseskrav. P.76-76.2: Er en overtrædelse af de i stk. 1, nr. 1 og 2, nævnte bestemmelser begået ved forsætligt og under skærpende omstændigheder at gengive de af bestemmelserne omfattede værker eller frembringelser eller blandt almenheden at sprede eksemplarer heraf, kan straffen stige til fængsel i 1 år og 6 måneder. Skærpende omstændigheder anses navnlig for at foreligge, hvis overtrædelserne sker erhvervsmæssigt.