Preferred Brands: FOCAL – JMLab -F3/AUDIOVECTOR – ELIPSON – KEF – EPICURE – 3A ANDANTE – AVANCE
FOCAL, JMLab & F3/AUDIOVECTOR: All models * ELIPSON, KEF, 3A ANDANTE & AVANCE: Specific models
EXPERIENCED REPAIR – ORIGINAL PARTS ONLY
Vast experience in restoring all speaker units. We specialize in Focal – DIRECT IMPORT of Original Suspensions. BEST PRICE IN DK – Please inquire by Mail. SPECIAL: Restoration of Focal JMLab inverted dome tweeters. Mounting – Dome – Coil – Front plate & SALE OF RESTORED FOCAL speakers and speaker units. We may be able to assist you with the devices you may be missing. We collaborate with other Dealers Worldwide, in search of rare / older units.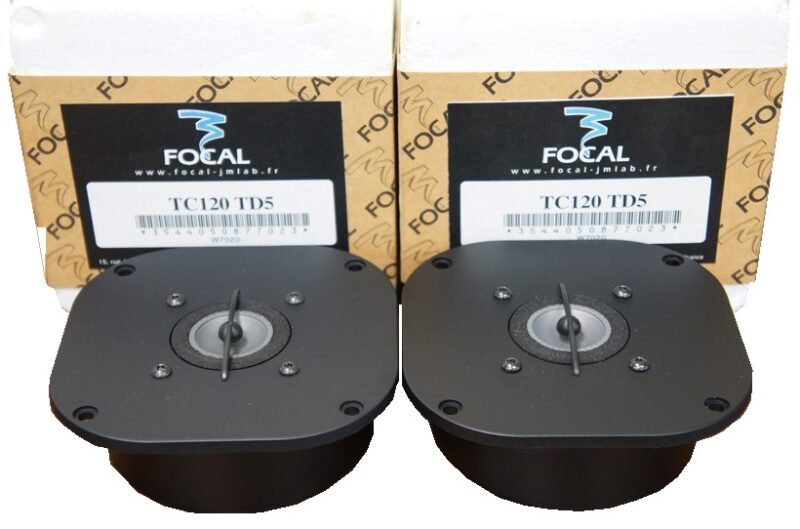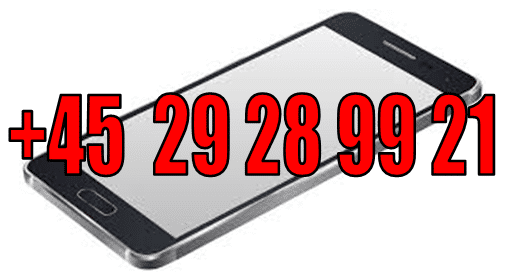 Avance Labs Dana II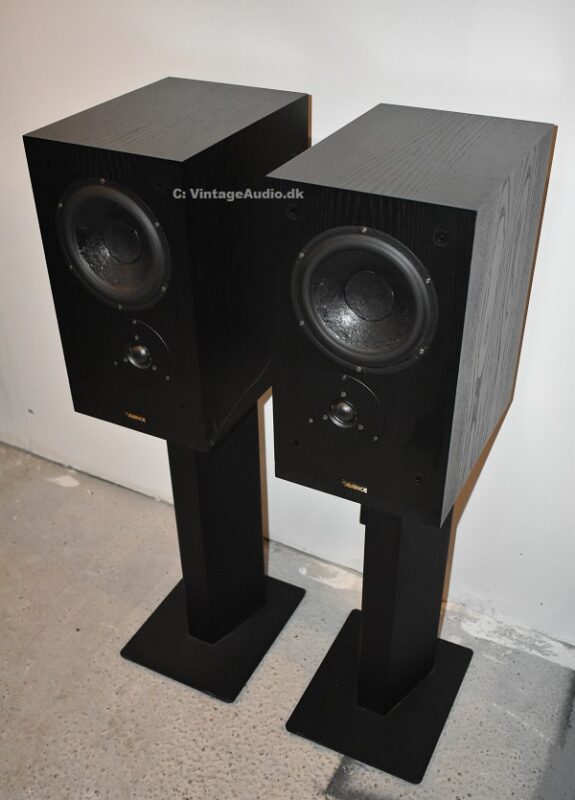 Dynaudio EsoTec Tweeter & Scan Speak Revelator Bass, very heavy Stands / Org. boxes, manuals etc. Rare chance to obtain this very famous 2-way model in Black. Price: € 685,- (Dkr.: 5150,-)

NEW SPEAKERS ARRIVED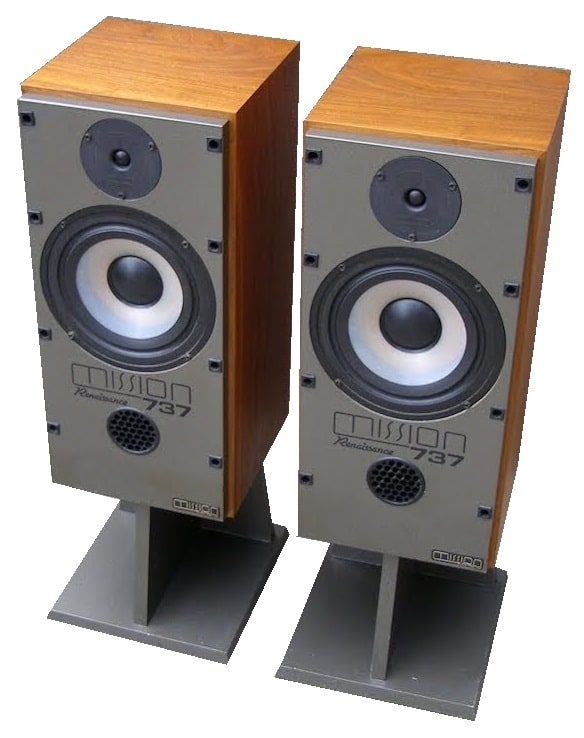 Mission 737 Renaissance – JMLab Cobalt 806 Signature – Monitor Audio R352
JMLab Cobalt 806 in Black / Aluminum
€ 690,- As a Sister to the fabulous Electra series, this Coblat is really a Best Buy. Tioxide Tweeter (Titanium) and same Bass unit as in various Electra models. Impressive sound, and not the least an Impressive Bass from a moderate sized speaker. Rarely sold in Black/Alu. Set sold without shown speaker Stands.
Mission 737 Renaissance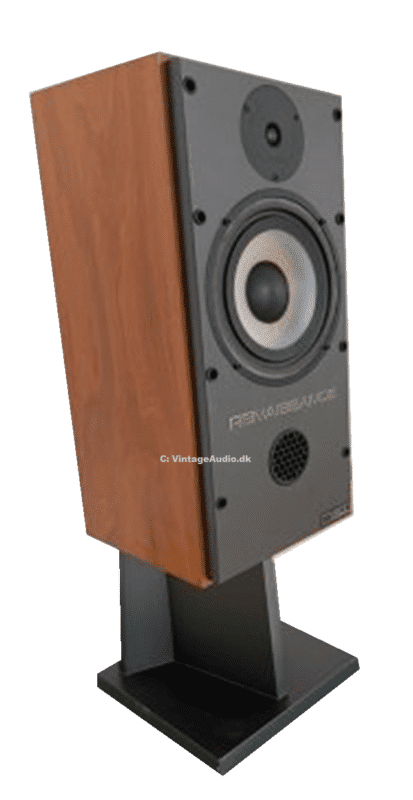 € 600,- Excellent sounding speaker in very fine Condition. New org. Tweeters, Crossovers refurbished w/ new Capacitors and Cabinet waxed. Org. Mission stands included, single owner set ready for sale.
JMLab DB26 DOUBLE BOBINE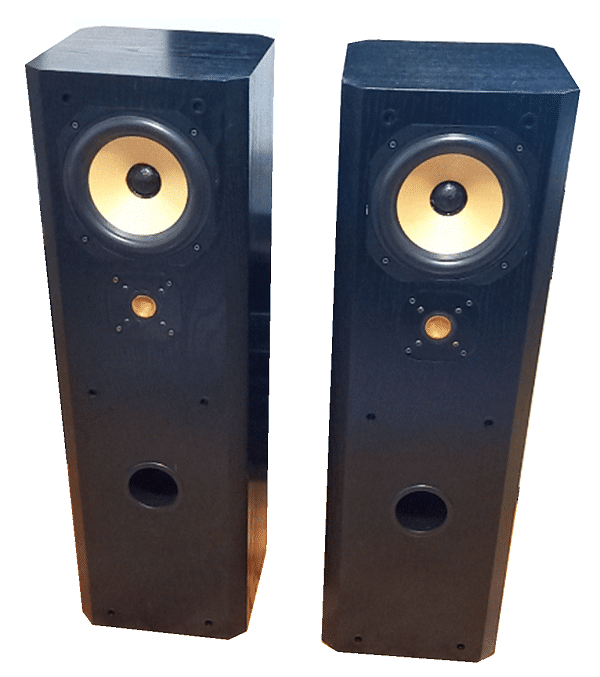 TEMPORARY PHOTOS OF IDENTICAL MODEL – Tweeters refurbished before sale – Double Voice Coil secures deep Bass, punch and enhanced Dynamics.
Price: € 425,- (Dkr. 3200,-)
Infinity RS beta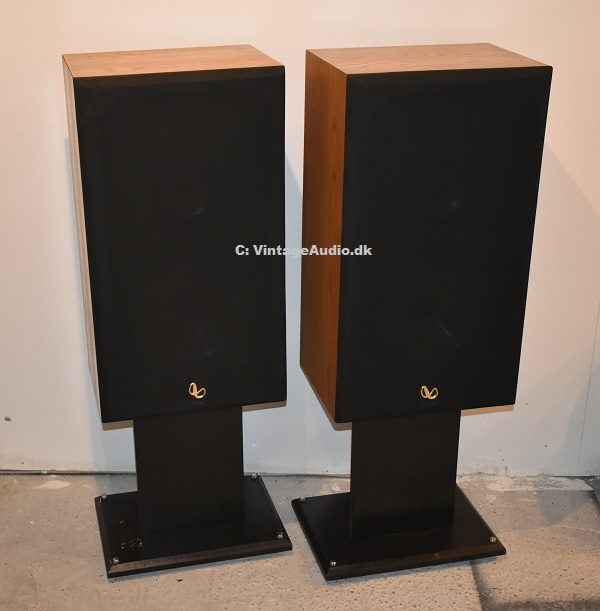 EXTREMELY RARE FULLBLOODED RS SERIES FROM CALIFORNIA, ONE OF ONLY 3 SETS IMPORTED TO DENMARK – SINGLE OWNER, NO DISCOUNT, NO EXCHANGE. NOT TO BE CONFUSED WITH THE CHEAPER GERMAN MADE KAPPA MODELS – Price: Require by Mail

KEF 104.2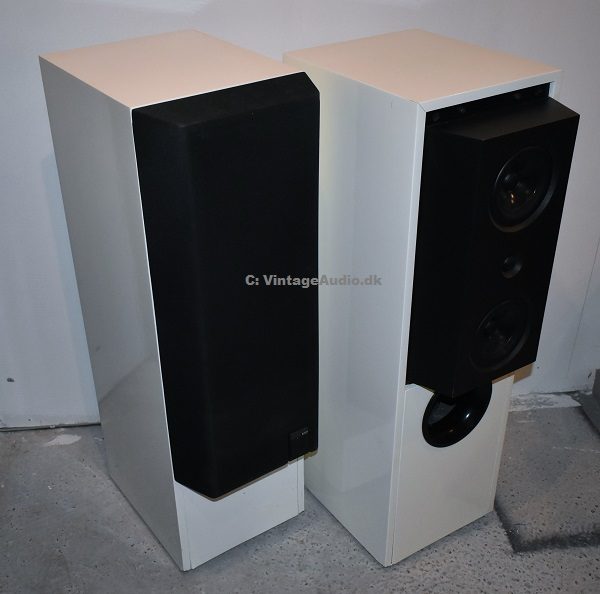 PHOTOS OF ACTUAL MODEL – White Piano Lacquer – Refurbished w/Org. Suspensions, awaiting arrivalw of new org. Donut Suspensions for 4 x Bass units. Price: € 525,- (Dkr.: 3950,-)
Onken Focal Eggs – 3 sets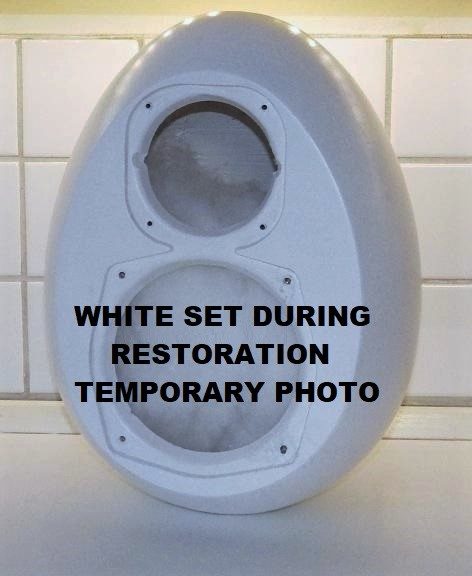 THREE sets – White sets during restoration, soon ready for sale. XLR Connections on backside removed and replaced with connections through bottom Egg. Temporary photos of indentical Egg. Price / set: € 300,- (Dkr.: 2250,-) * Set # 2 in Black ready for sale (Reserved: LH / NL) ALL SETS SOLD

WE OFFER COMMISSION SALE with or without REPAIRS OF YOUR PRESENT SPEAKERS

ONKEN FOCAL ORG. CROSSOVERS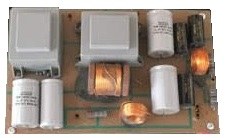 Temporary photos… Price / set: € 400,- (Dkr.: 3000,-)
JM Lab Opal 706 – French Upgrade version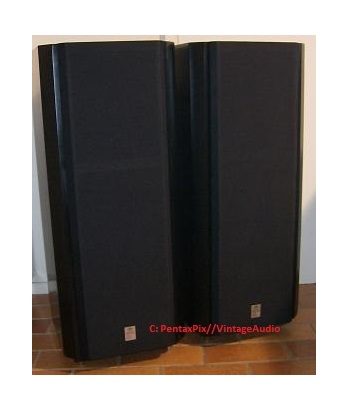 TEMPORARY PHOTO OF ACTUAL MODEL – DESCRIPTION ASAP – Price € 640,- (Dkr.: 4800,-)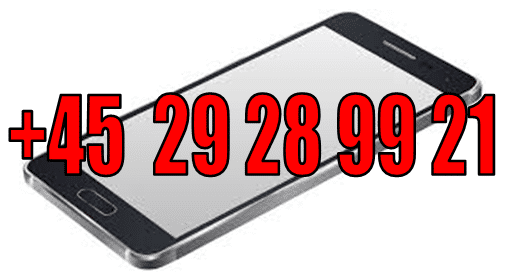 WE ARE CONTINUOUSLY SEARCHING FOR INTERESTING SPEAKERS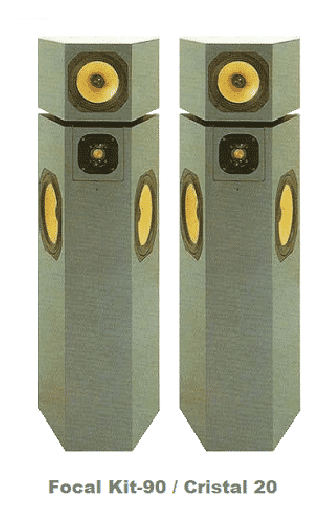 Many Speaker designs originates from France right back to 1938 – Not least thanks to pioneers like 3A, ELIPSON, C.A.F & FOCAL / JM Lab. A number of technical Milestones can be found in most Speakers sold today. Also many different / alternative models descends. We are very interested in acquiring some of these phenomenal Speaker designs, so in case You own or have seen one of the above plus similar versions, then please Mail Us.
CHECK OUT LOOSE TWEETER – MIDRANGE – WOOFER UNITS BOTTOM PAGE – SCROLL DOWN
Focal DB300 – SOLD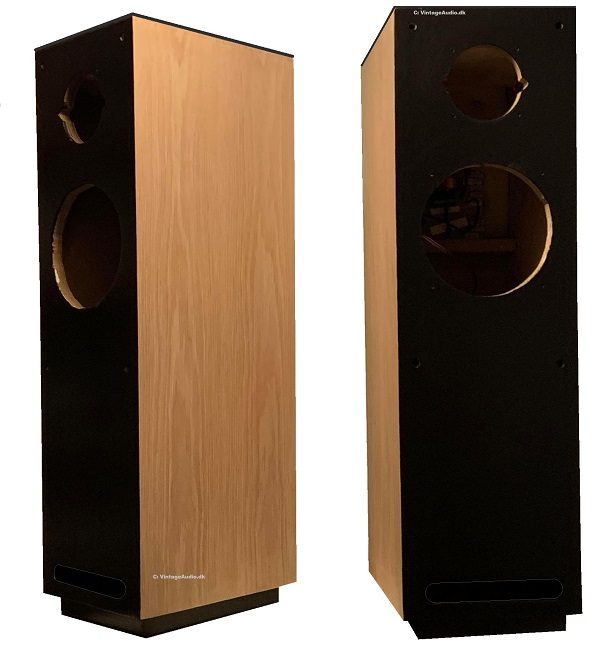 JMLab ELECTRA 920.1 – SOLD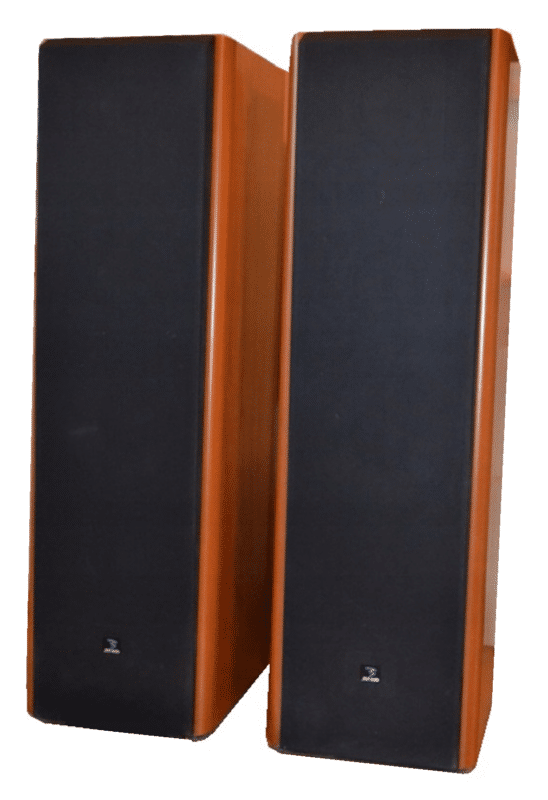 F3 / AUDIOVECTOR X3 – SOLD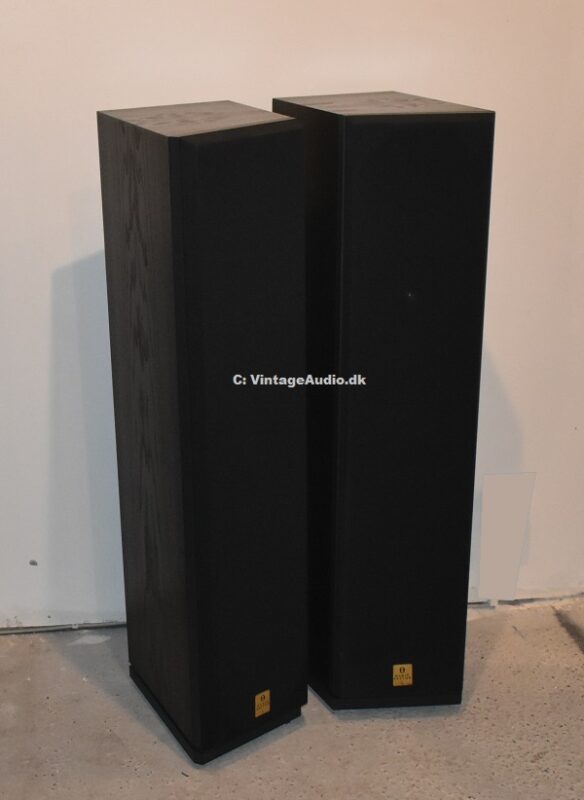 JM Lab Laurèate – SOLD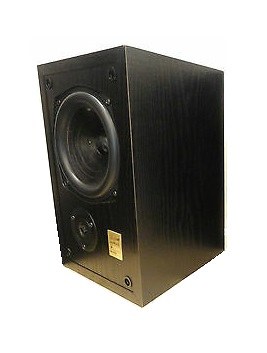 JM Lab DB17 K2 – SOLD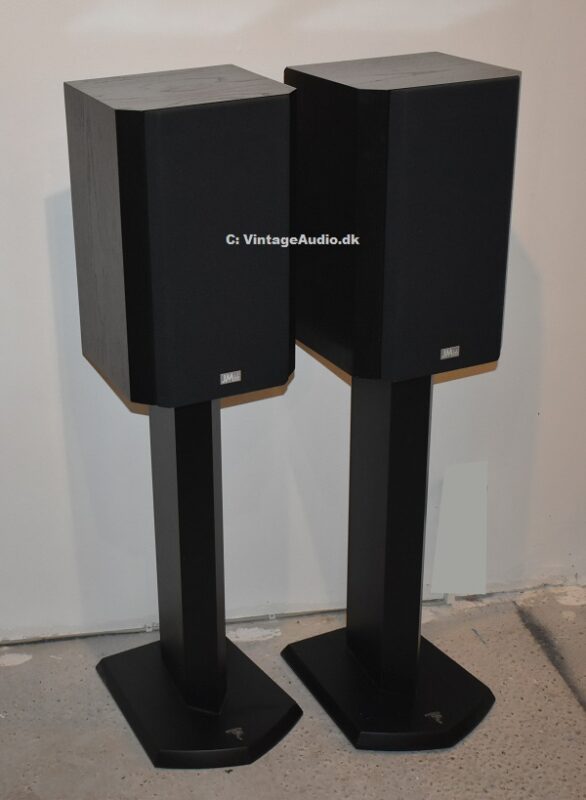 Focal Electra 1008 BERYLLIYUM – ORG. STANDS – SOLD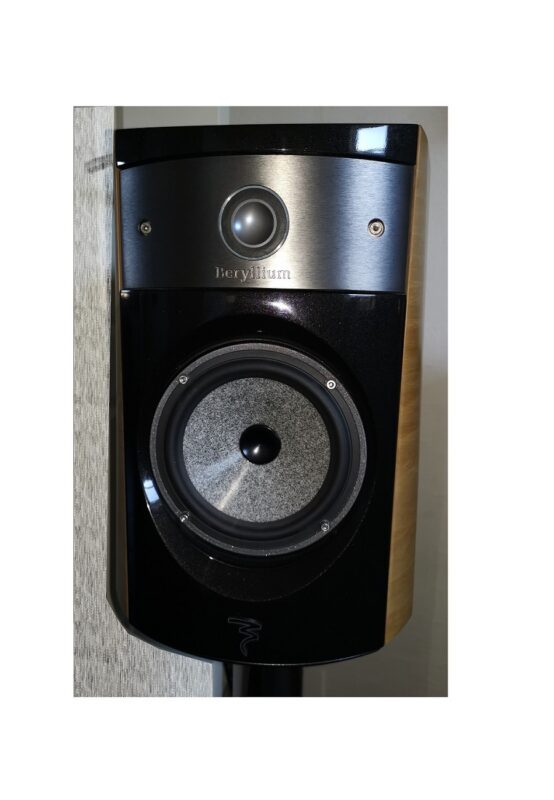 ONKEN FOCAL – ORG. SET IN BLACK – SOLD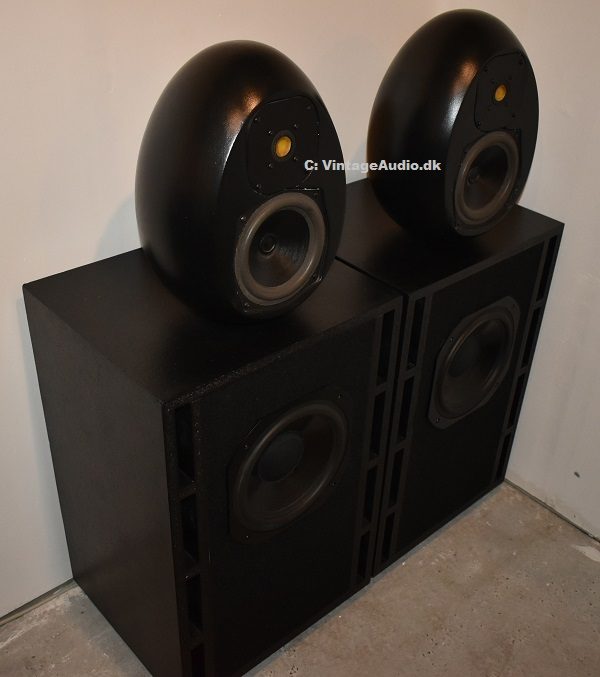 Focal Electra 1007 BERYLLIUM – ORG. STANDS – SOLD
F3 / Audiovector 6X Focal Upgrade – SOLD
JMLAB DB19 – SOLD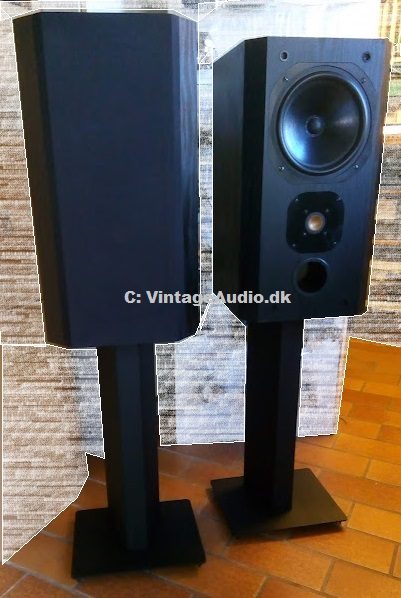 Heco Celan 700 – SOLD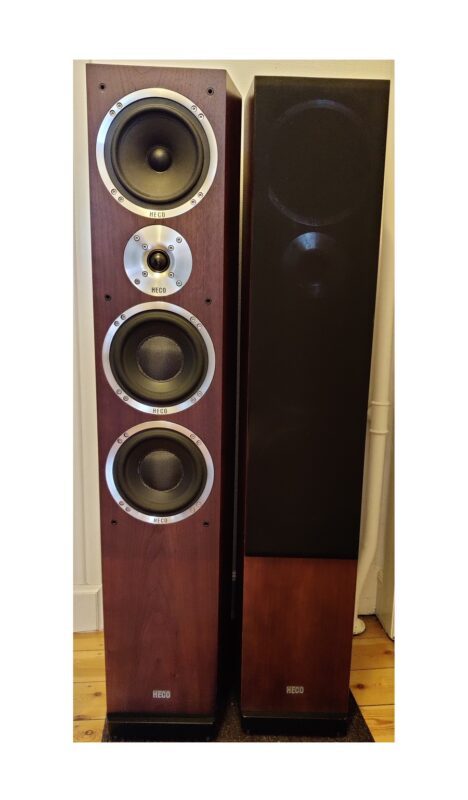 F3 / Audiovector X3 – SOLD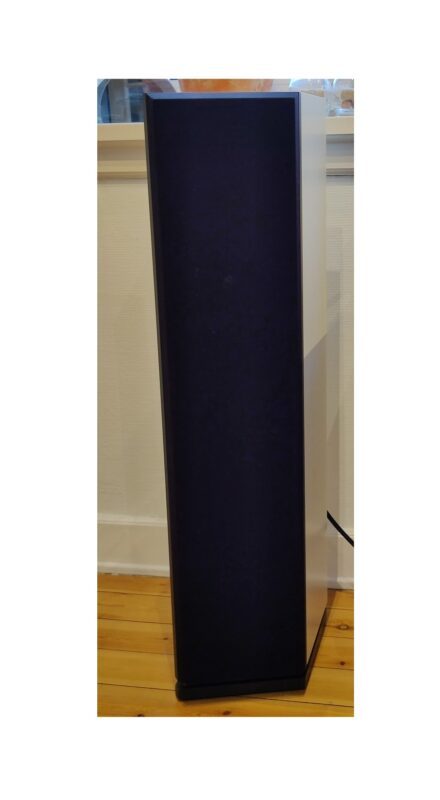 AUDIOVECTOR MI-3 -SOLD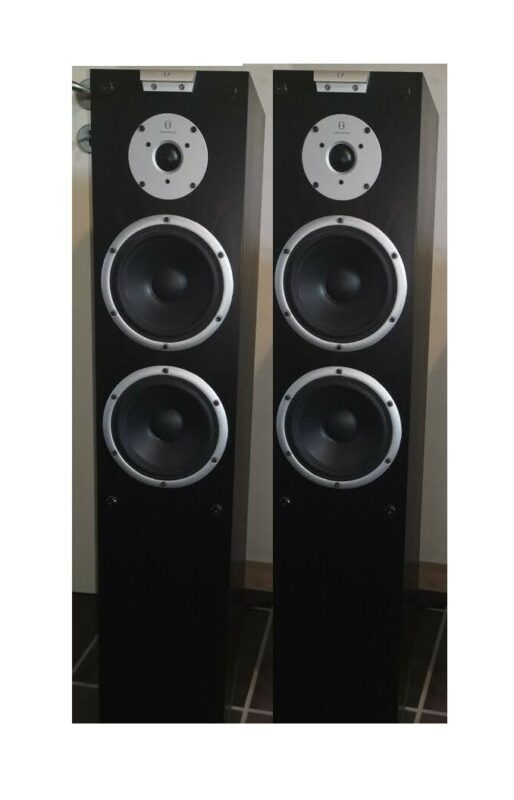 JMLab Profil 5 – SOLD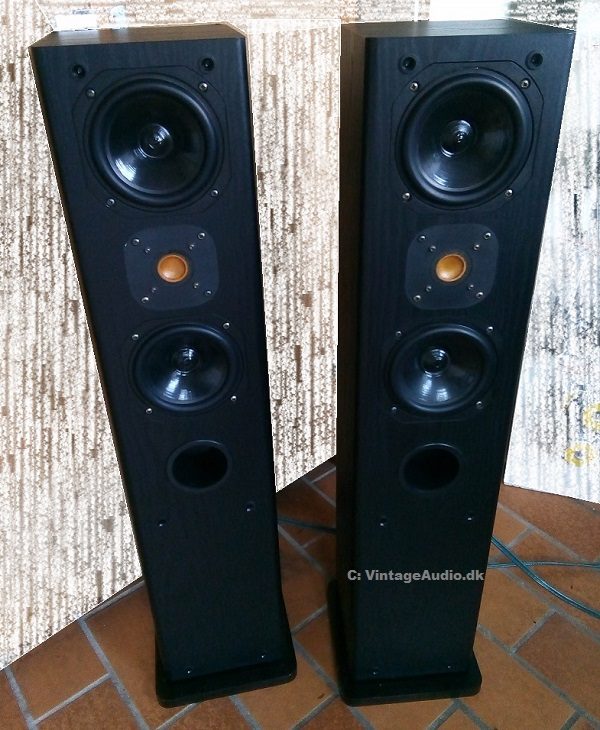 THE LEADING FACTOR:
Due to Companies like Elipson, A3, Cabasse and Focal / JMLab, France has been the leader on speaker development for Decades. Often a little different Constructions than most, but perhaps this unorthodox angle is one of the reasons why they sound as good as they do. For more than 30 years we have concentrated on keeping some of the best Focal / JMLab models alive. Unfortunately new Focal speakers are Expensive, but a number of Vintage models will most certainly do instead. Even at very acceptable Prices and with a sound close to the brand new models, Focal never forgets their Pedigree.
Below a small variety of the many French speakers produced. Focal – JMLab – Elipson – A3 plus a few Danish Audiovector models together with a few KEF and Avance Labs models.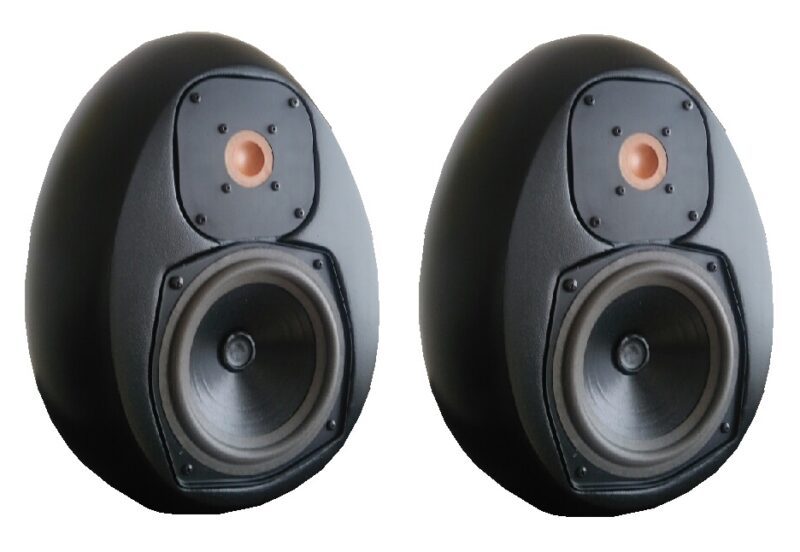 ONKEN FOCAL: We Specialize in Restoring the Legendary Speaker. More than 50 sets restored, mail Us for further Info – ONKEN FOCAL: Nous sommes spécialisés dans la restauration du légendaire orateur. Plus de 50 ensembles restaurés, écrivez-nous pour plus d'informations – ONKEN FOCAL: Wir sind spezialisiert auf die Wiederherstellung des legendären Lautsprechers. Mehr als 50 Sets Restauriert, mailen Sie Uns für weitere Informationen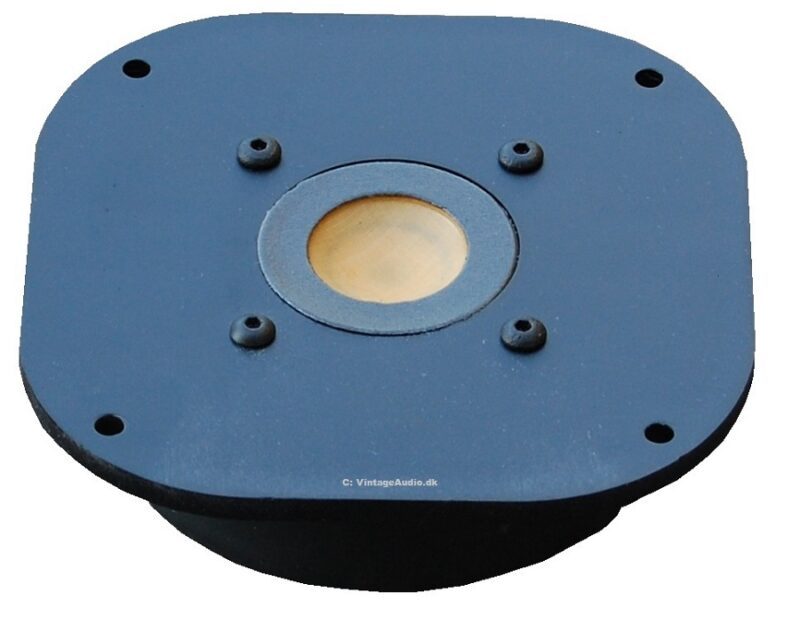 FOCAL TC120: FOR SALE: 1 set TC120 refurbished. Set/ 2pcs.: € 340,-
Defect set accepted in Exchange

VINTAGEAUDIO SPECIAL: Complete Restoration of Focal/ JMLab inverted dome tweeters. New Voice Coil & new Dome, furthermore Tweeter Faceplate is restored to matte finish. Complete restoration pcs. € 95,-
Sale / Exchange of vintage FOCAL speaker units: To the extent possible, we may be able to help you with the speakers you may be missing.
Auth. Focal Supplier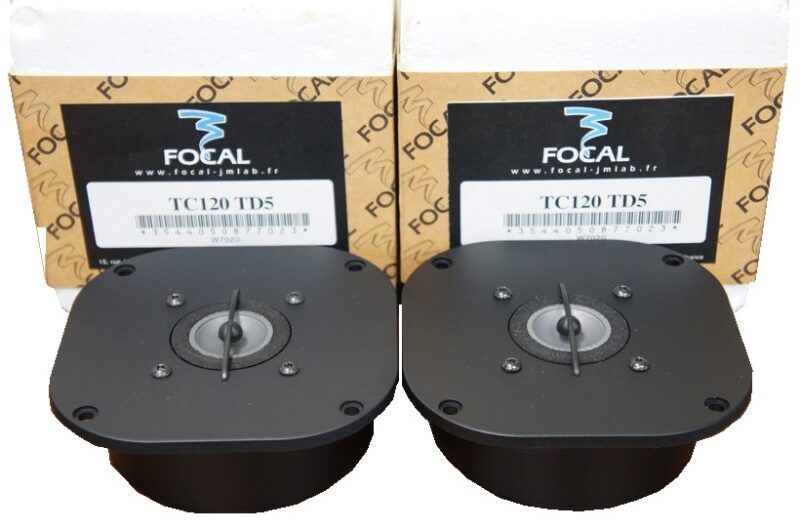 Focal TC120 TD5 – New set ready for sale. Very rare chance.
Price / Set: € 425,- (Reserved)
Defect set accepted in Exchange
Focal TC100 Tweeter set – Refurbished Front + new Dome/Coil. Used in many Focal / JMLab models.
Price set: € 185,–
Defect set accepted in Exchange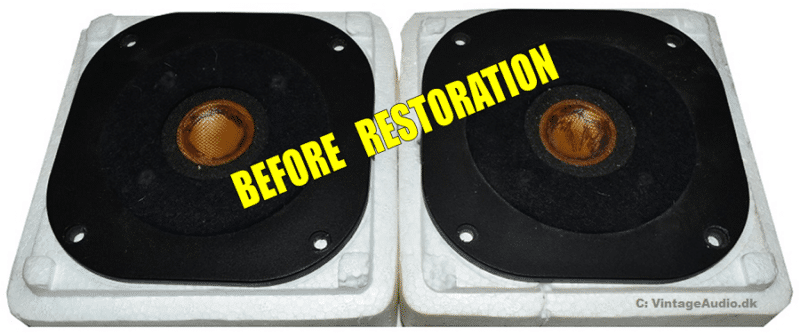 TC120 KT – Audiovector 6 Tweeter set soon ready for sale
Price Restored Set: € 340,-
Defect set accepted in Exchange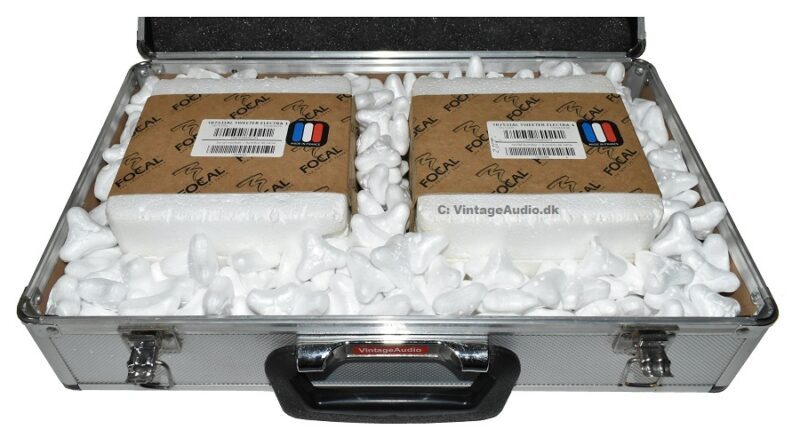 SECURE SHIPPING:
For each Order whit Exchange of defect set is relevant, We ship Your Restored tweeters in an Aluminum suitcase as shown here. Always packed in org. Polystyren boxes. Your defect units can then be returned to Us the same way. Focal Tweeters are heavy, app. 1,8 kg. /pcs – Shipping weight: 5 kg.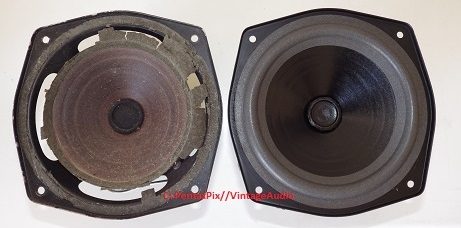 Complete Refurbishment of Focal 7MC2 Midrange/Woofer – Org. parts only. Price: € 95,-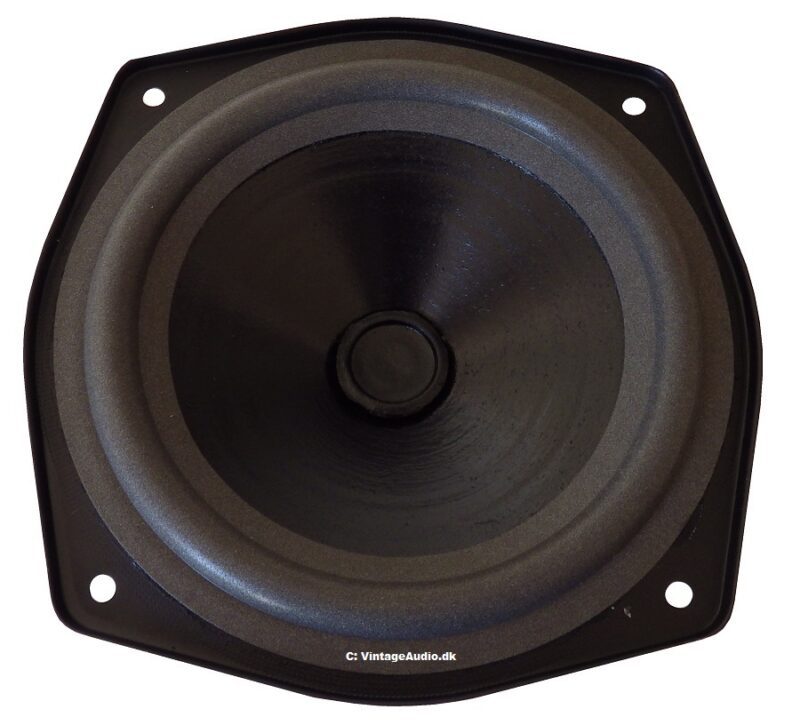 FOCAL 7MC2: 1 pcs. Completely refurbished, Condition Excellent. Pcs.: € 150,-

Complete Refurbishment of Focal 7N303/313 Midrange/Woofer – Org. parts only. Price: € 95,-
FOCAL 7N303: Fits Onken Focal Kit 600 as well as Audiovector 4.
1 pcs. Completely refurbished: € 135,-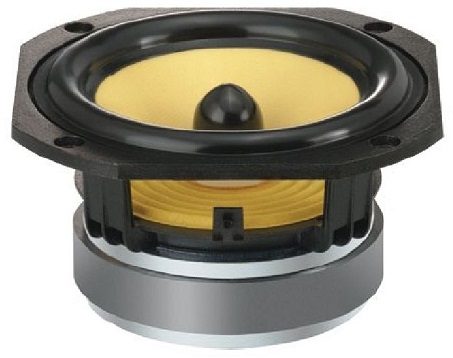 FOCAL 5K4211: 1 set / 2 pcs. 5,25″ Polykevlar Midrange speakers. Second hand items but Condition very close to new. Set € 300,- (SOLD)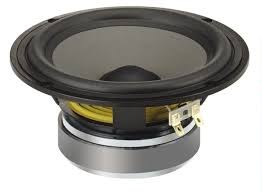 FOCAL 6V4211: New 6 1/2 " Polyglass Midrange/Woofer – 1 set/2 pcs. Price/set: € 300,-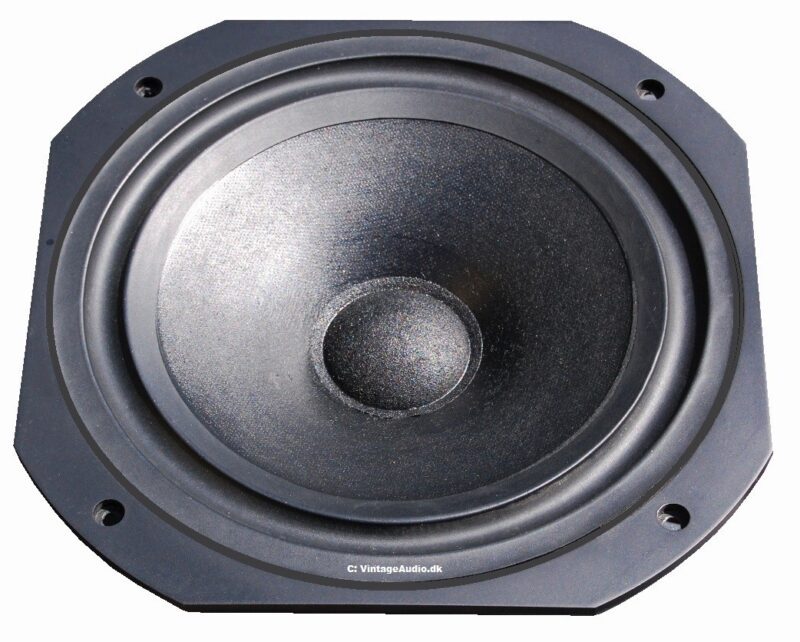 FOCAL 10C01: The original 10″ Onken Focal Woofer w/ inverted suspension. New Neoplex surface applied, non sticky. 1 set/2 pcs. in fine Condition. Price: € 340,-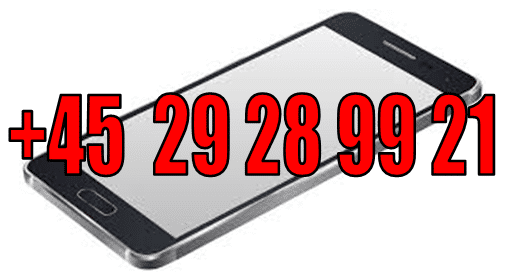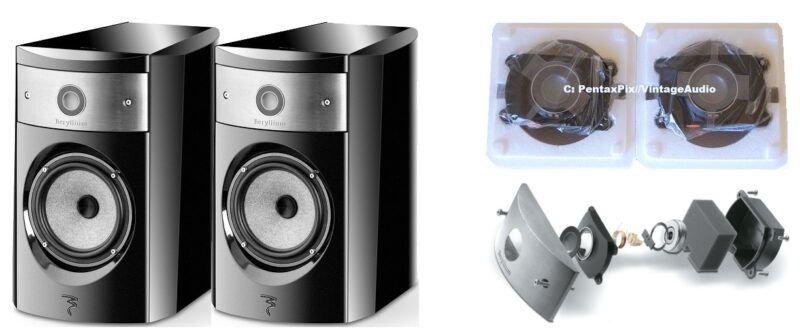 Beryllium: Experience tells us that many people have a little trouble finding new Beryllium tweeters for I.E. Focal Electra etc.
A fantatstic Tweeter, unfortunately also quite Expensive. We are happy to help with the right model, a few weeks delivery time can be expected. Beryllium tweeters are not a stock item, so please inquire by mail. Delivery app. 3-4 weeks. New set: € 900,-

INFINITY POLYDOME: Surface Repair – Fix Your own Polydomes or let Us help You. Bottle with enough Surface Repair for 4 Polydomes € 45,- Copyright: Production & Distribution by VintageAudio.dk
One treatment guaranteed to last for + 25 years Do it before Your Dome`s crack
FOCAL / JMLab SPECIFICATIONS – CLICK TO ENLARGE: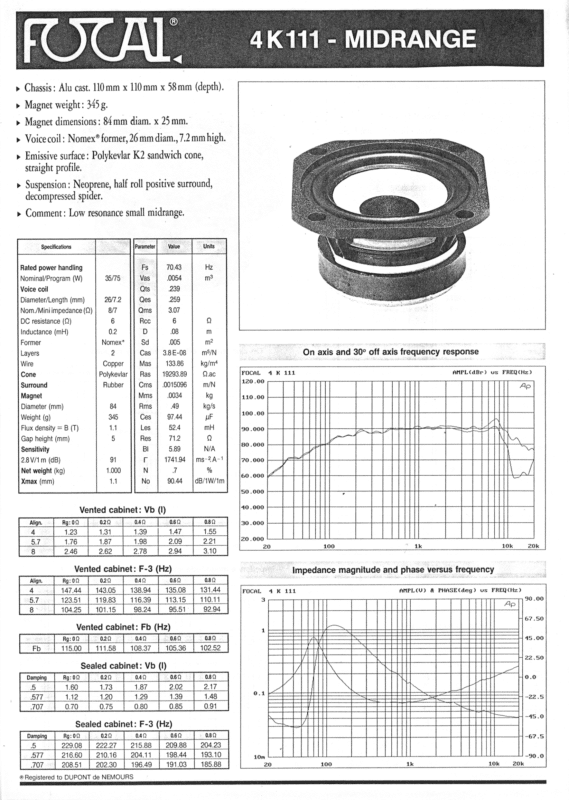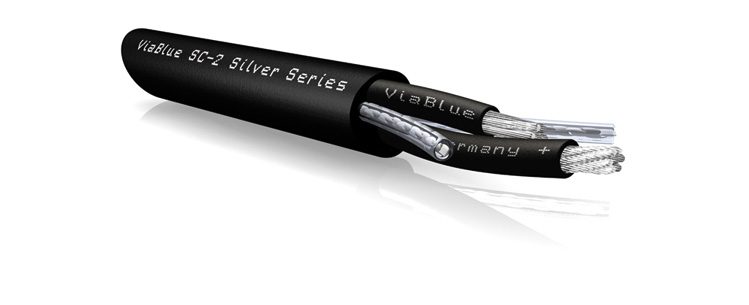 We recommend: ViaBlue SC-2 Speaker Cables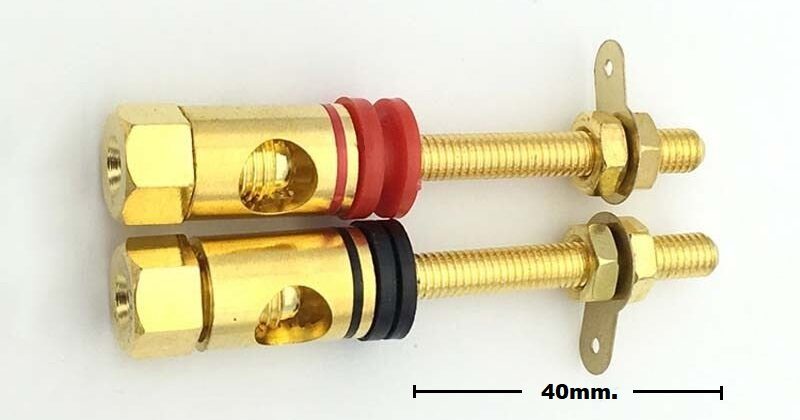 BINDING POSTS: Extra long version, 40mm. solid thread – Set of 4 pcs.: € 20,-
http://www.passion-elipson.com/mobile/index.html
Auth. FOCAL SUPPLIER