REVISED VERSIONS – PARTS & DETAILS – CLICK PICTURES
PROFESSIONALLY PRODUCED HARDWOOD PLINTHS – THORENS – LINN – ARISTON etc. etc. Fits ULTIMA ALUMINUM SUSPENSION, separate advert. Tolerance Precision: +/- 0.2mm.Solid Hardwood, polished. Scroll down for various models. Compatible with the TD140 / 160 series. SPECIAL MODELS BY REQUEST – Thorens, Linn, Ariston, etc .: CALL US …Solid Hardwood Plinths, Pro Made – RCA holes as desired. We also Restore and Surface treat Plinths for I.E. Thorens TD300-series, Roksan Xerxes etc.
Ash, waxed: EUR 120,- Beechwood – Straight / Black: EUR 120, – White Oak: EUR 150, – American Mahogany: EUR 165, – Smoked Oak: EUR 185, -. Moondust Anthracite / Oak: EUR 185,- – Linn Sondek LP12 / Ariston RD11 Plinth in White Oak, straight: EUR 340,-. Fluted version: EUR 375,-
THORENS: TD160 Upgrade: 1,6MM. ENRICHED CARBON STEEL SPRINGS – FASTER & BETTER:
Vertical Stability is Important to avoid Turntable from tilting. This modern Carbon Steel Spring posses a better ability to use it`s own Force making it Considerably faster. Result is a firm Bass and an Excellent Clarity in sound. Steerper Windings prevents this Spring from being squeezed like an ordinary Piano Wire Spring. Incl. are new Silicone Grommets whch never gets hard and that does not touch the Bolts that keep Your Suspension together. Set of 3: Dkr. 288,- / EUR 38,-
C: Design, Production, Sale: VintageAudio.dk

THORENS: BALANCED PLATTER in SOLID ALUMINUM
Technically Balanced for Max. Rotation and Steadiness. Easy fitting on Your own Bearing Design, Production & Sale: VintageAudo.dk Price: Dkr. 645,- / EUR 84,-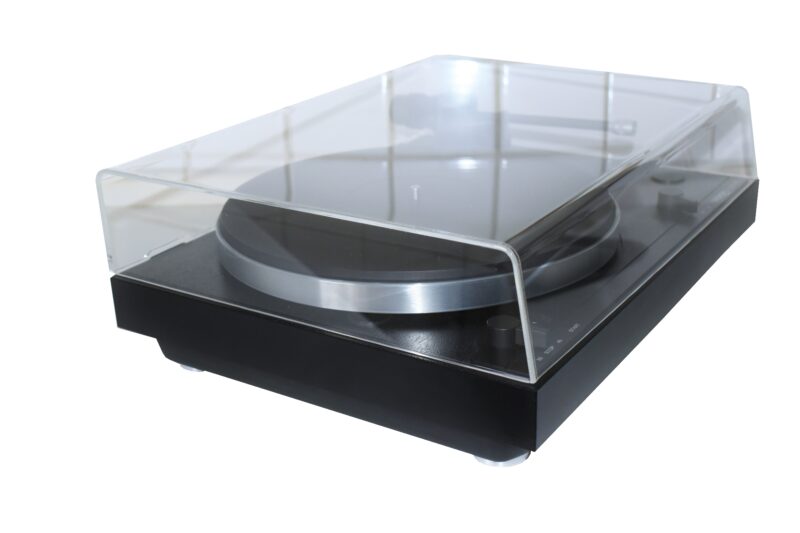 THORENS / LINN SONDEK: The TX2020 Crystal Clear Dust Cover is an improved version of the discontinued Thorens TX2001 model. Curved edges with a sloping front makes this Cover completely Transparent all way round and with Cutouts for metal hinges the TX2020 is the Dust Cover most Thorens owners want. Surface is Hardened and Scratch-resistant, end pieces are Welded so no Glue residue and no white lines along edges. UV-Resistant Quality.
TX2020 fits Thorens TD160 / 300 / 2001 Series perfectly. Price: Dkr. 835,- / EUR 110,-

BASEPLATE: 3mm. Polished Aluminum w/2mm. High Compressed Bitumen damping on the inside. Included: 4pcs. Ø32 x 10mm. Aluminum Decoupling Feet in Polished Aluminum or Anodized black w/ o-rings for THORENS TD160 / 2001 & Linn Sondek. All Baseplate are recessed into Plinth from below. Price: EUR 85,-

THORENS: NEW BERGER LAHR MOTORS AVAILABLE: EUR 135,-/pcs. – Motor incl. PRO PRODUCED CONTROL BOARD & 12Vac EXTERNAL PSU: EUR 275,-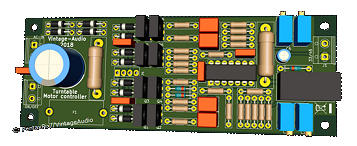 THORENS TD160-Series: NEW ADVANCED MOTOR CONTROL BOARDS, BERGER-LAHR and PREMOTEC MOTORS, ELECTRONIC SPEED CONTROL & PUSH BUTTON. PRO DEVELOPED, PRO PRODUCED – COMPATIBILITY: Org. TD300-series and TD160 Revised w/ BERGER-LAHR motors – DC version fits ULTIMA, LINN etc. w/ PREMOTEC motors – Copyright: VintageAudio.dk Price: Dkr. 1240,- / EUR 165,-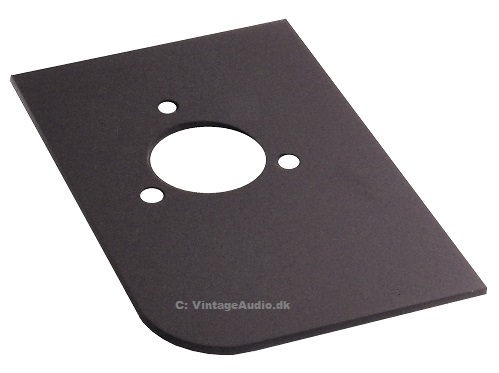 THORENS TD160-Series: EASY-FIT Height Adjustable Aluminum Armboard for Thorens TD160-Series. Change Tonearm without disassembling entire Turntable. Easy-Fit Armboards are delivered incl. cut for Your Tonearm and they are Anodized in Black or Alu. Easy-Fit Armboards only available at VintageAudio.dk Price: Dkr. 289,- / EUR 40,-

THORENS: 3mm. Anodized Aluminum armboard for TD321 & TD320. Precision lasercut, fits perfectly into Plinth. TD320 board incl. holes for Tonearm replaces org. part #7890024. Price: EUR 40,-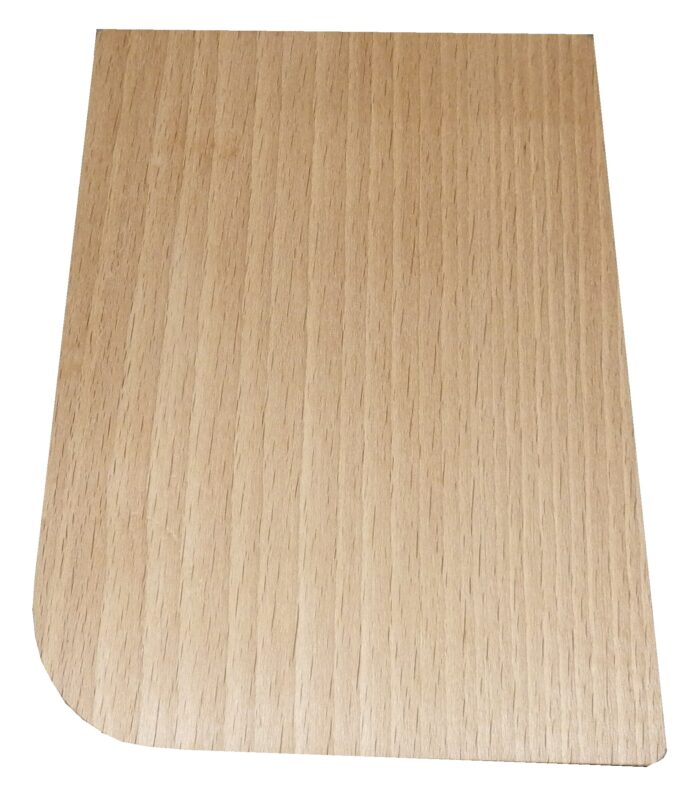 THORENS: VINTAGEAUDIO SPECIALS – PRO CRAFTSMANSHIP at HIGH LEVEL: Shown a 4mm. Armboard in BEECHWOOD supported by a recessed 2mm. Aluminum plate from below.
This prevents Cracks and gives sufficient Material when Tonearm is tightened. Smoked Oak / Aluminum Armboard for ULTIMA STEEL and Beechwood / Aluminum Armboard for TD160 Revised models Fits also most original Thorens TD160 models. Design / Production / Sale: VintageAudio.dk
Copyright violations Prosecuted without Notice. Price: EUR 58,-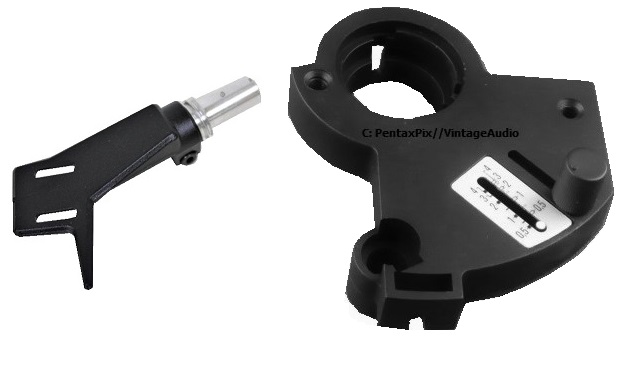 THORENS TP95 Headshell: # 7890019 EUR: 125,-
THORENS TP90 Baseplate: Low Stock EUR 79,-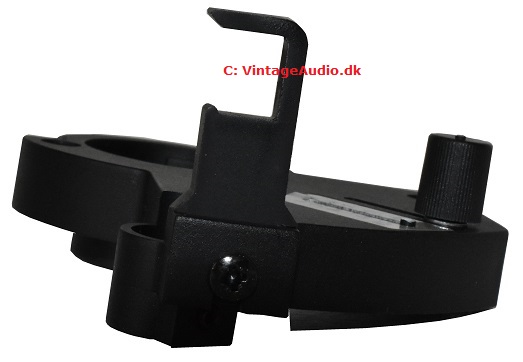 THORENS: TP90 LUXURY ARMREST in Anodized Aluminum. Arm opening adjustable. Shipping to the EU incl. in Price: EUR 20,- Worldwide: +3-5,- Design, Production & Sale by VintageAudio.dk only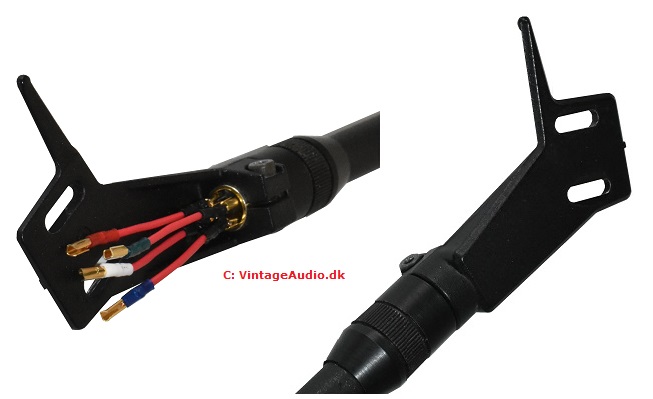 THORENS: TP95 Fixed Headshell is a possibility if You only use one Cartridge. New Connector and new Litz makes it possible to Exchange Headshell using a Hex key. Litz will remain attached to the Tonearm. Price: EUR 65,-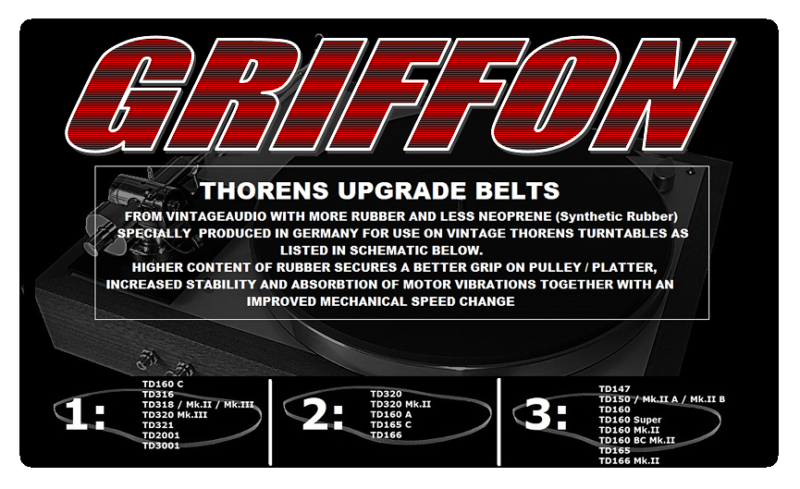 GRIFFON UPGRADE BELT: Prevents Belt from slipping off Pulley on Thorens models with low Pulley, I.E. TD2001/3001, TD320 Mk.III. Quality: Belt with higher content of Rubber and less Neoprene results in a better Grip around Pulley. Belts are specially produced in Germany for VintageAudio.dk. We ship Worldwide as normal Letter at only EUR 4,-. Price: EUR 25,-


THORENS: Rubber Mats in 3, 5 & 6mm. Turntable Construction is tuned in for use of Rubber Mats on Thorens models, this way best possible sound is always achieved. For years they have been Out of Stock, however we normally have a small Selection available. All Mats are cleaned and polished for schratches etc., Condition is very close to new. Prices: 3mm. Plains with label Recess / TD316, 318 etc. : Dkr. 350,- / EUR 45,-
5mm. Fluted with label Recess / TD160, 160S etc.: Dkr. 400,- / EUR 50,- 6mm. Concave with label Recess / TD320, 321, 2001, 3001: Dkr. 565,- / EUR 75,-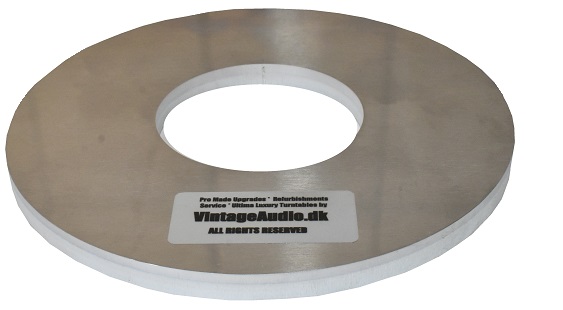 THORENS: INERTIA 400 gr. Aluminum Upgrade Ring Improves weight and drive on Thorens models with Resin Inner Platter. INERTIA also fits Zamak Platter. Aattached with Silicone INERTIA will have a Damping effect also. Perhaps the easiest and cheapest way to Improve Your Turntable. Price: EUR 28,-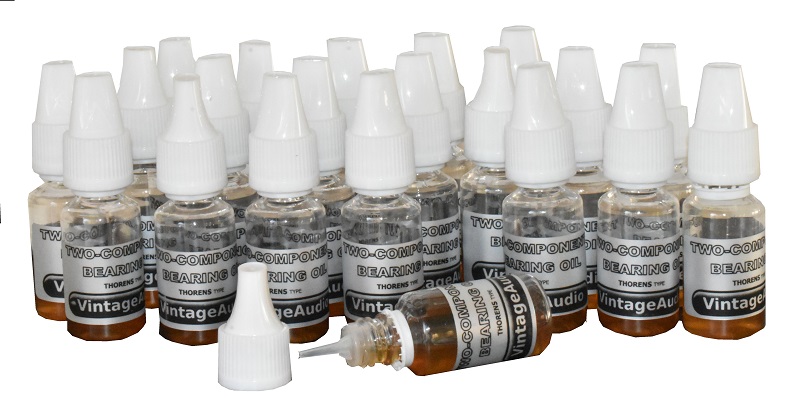 THORENS: TWO-COMPONENT BEARING OIL – Especially made for 10mm. Vidia Bearing with 80-year Warranty. Incl. postage to the EU Dkr. 100,- / EUR 15,–

THORENS: 1 set of Metal Hinges. Price: EUR 50,-
THORENS: Replacement Caps for Leaf Spring adjustment on 300-/2001 Series. 3 pcs. EUR 22,- incl. Free Shipping / EU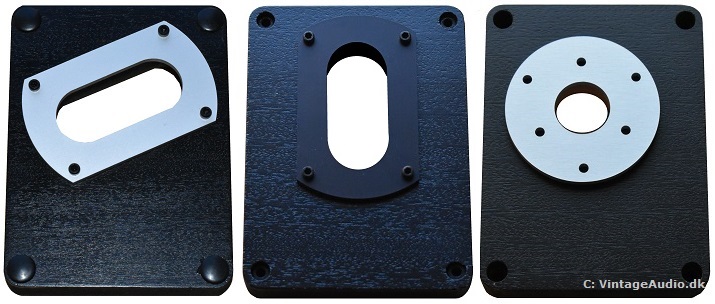 Thorens TD321 Original & Custom made Armboards With or without various VTA Shims etc., here shown for SME, Audio-Technica & Rega arms. Boards without VTA Shims and Custom made Boards possible, please Mail or Call Us. Aluminum Armboards for both TD321 and TD320/TP90 versions also optional. Price stated for TD321 Armboard in MDF without VTA Shims. Dkr. 415,- / EUR 55,-

Thorens TD300-Series: Restored Baseplate incl. all accessories and Tac-5 Tonearm Connector / ViaBlue Silver Cables: Dkr. 650,- / EUR 86,-

THORENS: Control Board: Complete Restoration EUR 90,- – Exchange to Identical Renovated Board EUR 75,-

THORENS: BLACK PLATTER: One of Our Specialities are Black Platters, buy or Exchange Your own. Black Platter: EUR 60,- / Exchange EUR 42,-.
Thorens Jubilee Platter in Black with shiny Edge occasionally. Price: EUR 125,-

Thorens Belt 6800574: EUR 35,-

Circuit Board 2 x 2,5cm. for Tonearms Litz Connections. Presoldered 2 x 8 holes connected two by two. Price: EUR 1,-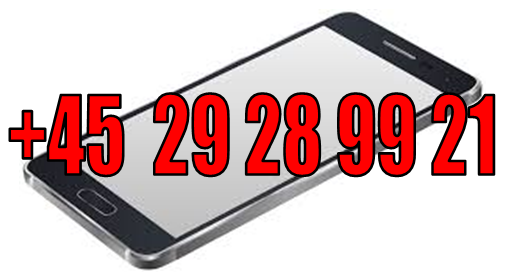 BEST QUALITY – LUXURY ANODIZATION:
Laser cut top plate with perfect fit ift. Base frame: tolerance +/- 0.2 mm.
ALU, BLACK and STAINLESS STEEL. Only at VintageAudio you get: LUXURY: Same standard used for example: B & O – AUDI – BUGATTI and others. Elegant upgrade that also rejuvenates old models.
Be aware of cheap Low Budget copies often made from mixed Alloys. Anodizing is an expensive electrochemical process that ensures perfect Results IF metal Quality applies. Lasercut & Anodized Faceplate Alu or Black: Dkr. 490, – / EUR 65, -. Stainless Steel: Dkr. 700, – / EUR 92, – *** FR: MEILLEURE QUALITÈ – ANODISATION LUXE:
Plaque supérieure découpée au laser avec ajustement parfait ift. Cadre du socle: tolérance +/- 0,2 mm.
ALU , NOIR et ACIER INOXYDABLE .Seulement chez VintageAudio vous obtenez: LUXE: Même standard utilisé par exemple: B & O – AUDI – BUGATTI et autres.Mise à niveau élégante qui rajeunit également les anciens modèles. Sachez que de nombreuses pièces "délicieuses" ne sont que de la peinture en aérosol. L'anodisation est un processus électrochimique coûteux qui ne peut PAS être peint.
Le pouvoir, le chauffage, la vapeur et la chimie sont écessaires. Nous avons 15 ans d'expérience dans la découpe laser et l'anodisation. On sait de quoi on parle … Voir d'autres annonces avec des pièces sur mesure pour modèles divers – Lasercut & Anodized Faceplate Alu or Black: Dkr. 490,- / EUR 65,-. Stanless Steel: Dkr. 700,- / EUR 92,-
Ash, waxed: EUR 120,- Beechwood – Straight / Black: EUR 120, – White Oak: EUR 150, – American Mahogany: EUR 165, – Smoked Oak: EUR 185, -. Moondust Anthracite / Oak: EUR 185,- – Linn Sondek LP12 / Ariston RD11 Plinth in White Oak, straight: EUR 340,-. Fluted version: EUR 375,-
TD160 REVISED & LINN SONDEK LP12: New Muted Sandwich Sub-Suspensions soon ready from Lasercutting – Prototypes temporarily shown below
PRO MADE UPGRADES by VintageAudio Denmark: DESIGN – PRODUCTION – SALE: ALL RIGHTS RESERVED
SELECTED MODELS – STYLISH RESTORATION as well as a large selection of ORIGINAL and PRO. PRODUCED SPARE PARTS & UPGRADES: PLINTHS – ARMBOARDS – MOTORS – CONTROL BOARDS – BASE PLATES – SPRINGS, etc. New original parts and pro upgraded parts for the very best Thorens models TD320 – TD321 – TD2001 – TD160 S. NO EXCHANGE: TD145 / 146/147 + TD165 / 166 + TD316 / 318 + TD125 / 126: Unfortunately, we no longer exchange these models: TD145 / 146/147 + TD165 / 166: The starting point for upgrading is too bad, almost everything needs to be replaced. Inner plates in fiberglass, 7mm. bearings, old-fashioned tone arms, worn motors etc. It gets too expensive. TD125 / 126: Approx. 50 years old. The age alone tells a lot about these two models. A colossus of clay feet: An overly heavy work on excessively soft springs placed in an excessively flimsy box of thin, glued chipboard. Old tone arms, steering print / engine problems, hard-to-reach spare parts etc. makes us prefer to avoid the models. TD316 / 318 Mk.II: The models usually have very old-fashioned / cheap tone arms, inner plates in fiber plastic, 7mm. bearings Here too, it will be too expensive to rebuild considering the result you get. TD2001 / 3001/325/350 we upgrade. This is much needed, all models are born with too soft Suspension/Springs. Please Inquire further.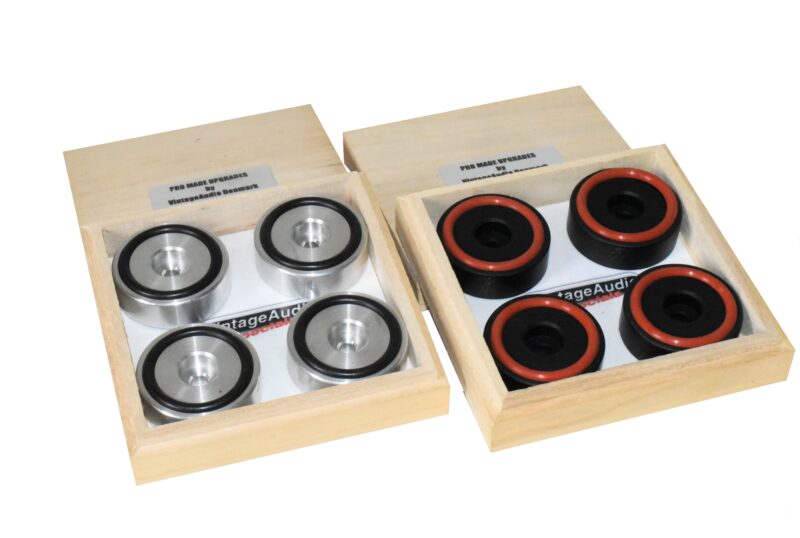 ALUMINUM DECOUPLING FEET – PRO DEVELOPED – PRO PRODUCED – ANODIZED BLACK / POLISHED ALUMINUM w/ O-RINGS Fits practically all Tuntable models – Can be fastened with either Bolts, Rivets or Glue. Discreetly made at size: 32mm. x 10mm. Produced by VintageAudio since 2010. Price stated: Wooden Box containing 4 Feet as shown on photos. Mail Us for variant: Alu / Black. Price: EUR 33,-

SNEDKERFREMTILLEDE PLINTE i 6 TRÆSORTER – BITUMENDÆMPEDE BUNDPLADER I MASSIVT ALUMINIUM – ANTI-VIBRATIONS FØDDER ilagt O-RINGE
DK: 3,2 kg. gedigent Egetræ: Bestil en ny Plint til din gamle LP12, du skifter den nemt selv. Professionelt fremtillet med tolerancen +/- 0,2mm. Plintene kan bestilles i den facon du ønsker, med riller eller en glat model vist andetsteds på siden Plintene har et betydeligt højere kvalitetsniveau end de originale og dyrere Linn plinte. Vi hjælper dig gerne med opgaven, også med de øvrige ønsker du måtte have. Samtidig giver vi gerne et rigtig godt tilbud på ny tonearm og/eller Pick-Up, Eventuelle opgraderinger som f.eks. bedre fjedre, udv. RCA, nye Armboards i div. træsorter hjælper vi også gerne med, altid professionelt fremstillet og diskret udført. Forhør gerne nærmere, husk venligst tlf.nummer hvis du mailer os. ******* DE: 3,2 kg. Solid Oak: Bestellen Sie einE neue Zarge für Ihr altes LP12, Sie können es ganz einfach selbst austauschen. Professionell hergestellt mit einer Toleranz von +/- 0,2 mm. Die Sockelleisten können in der gewünschten Form bestellt werden, mit Rillen oder einem abgeschrägten Modell, das an einer anderen Stelle auf der Seite angezeigt wird. Die Sockel haben ein deutlich höheres Qualitätsniveau als die originalen Linn-Sockel.. Gerne helfen wir Ihnen bei der Aufgabe, auch bei anderen Wünschen. Gleichzeitig möchten wir Ihnen ein wirklich gutes Angebot für neuen Tonarm und / oder Pick-Up unterbreiten. Alle Upgrades wie Bessere Federn, ausser RCA, neue Armboards in div. Wir helfen auch gerne bei Holzarten, die immer professionell und diskret hergestellt werden. Bitte erkundigen Sie sich, bitte merken Sie sich die Telefonnummer, enn Sie uns eine E-Mail senden. Price: EUR 340,-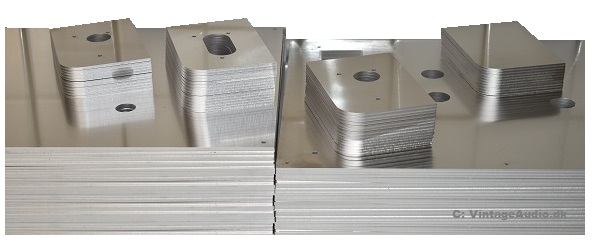 DK: NY MOTOR – NY STYRING – NYT FLYDENDE OPHÆNG – ORG. RTS HANDCRAFTED & PRO PRODUCED UPGRADE PARTS – WORLDWIDE SHIPPING:More than 35 years of Thorens experience makes a difference … Additionally 15 years of experience in Laser cutting and Anodization / Chemical Polishing, will secure You the best parts for Your Thorens.Faceplates, baseplates, feet, anodized surfaces, etc. are all professionally produced, no spray-painted parts etc. . This quality ensures the absolute best quality, durability and Superbe appearance – TD160 Revised models: Price starts at 1980,- / DIY Upgrade Kit
SPECIAL SOLUTIONS OFFERED: Laser cutting – 3D Milling – Anodization. So if you're missing a part for your turntable, Inquieries by mail welcome.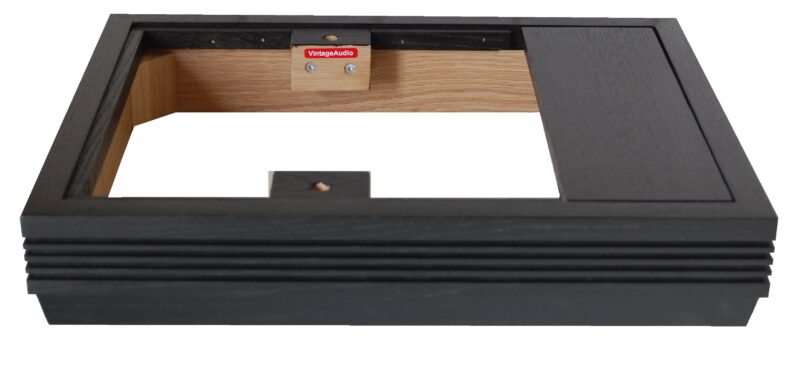 Pro made Luxury Plinth for Linn Sondek / Ariston RD11. White Oak Polished / Moondust Anthracite. Straight or Wedge model: Dkr. 2550,- / EUR 340,-
DIY Kits for Modernizing and Upgrading Your Own Thorens TD160 or Linn Sondek LP12 etc.: TD160 – TD2001 – TD3001 – Linn Sondek – Ariston RD11 Solid Aluminum Base plate – Faceplates made of finest aluminum quality Anodized BLACK or ALUMINUM Standard DS75EN accordingly – Best Quality STAINLESS STEEL Faceplate for Thorens or Linn Sondek, light sanded Surface. 4 anti-vibration feet, polished aluminum H: 10mm. D: 32mm. incl. O-rings for disconnection, Order in BLACK or ALUMINUM. Ready for use EASY-FIT Armboards, Height Adjustable and incl. cut for Tonearm of Your choice. Worldwide Shipping buý DHL IntraShip – Low Cost
DK: DESIGN DEN SELV – KOMPLET OPGRADERINGSLØSNING:
Mange kombinationsmuligheder for sammensætning af en TD160 Indlever din gamle TD140 – 166 model og få den ombygget til en ny maskine, nøjagtig som du gerne vil have den fra 2800,- Begge med udgangspunkt i din gamle 140-160 Serie, og du kan samtidig få et SUPER GODT TILBUD på f.eks. en NY TONEARM eller en NY PICK-UP. TD160 Upgrade Kit bestående af Plint, Topplade i Alu eller Sort, Bundplade i Alu og 4 Alu fødder: Dkr. 2140,-
KOM PÅ VORT NETVÆRK – SJÆLDNE MODELLER – SPECIALUDGAVER – LÅN en PICK-UP – INDBYTTE / VIDERESALG til ØVRIGE DELTAGERE – Privat Kommissionssalg – FABRIKSBESØG / UDFLUGTER m.v. – PERSONLIG KONTAKT: 29 28 99 21

UPGRADES & ACCESSORIES
DK: SPECIALFREMSTILLEDE ARMBOARDS med/uden TONEARMSFLANGE:
TD321 m.fl. samt EASY-FIT modellerne til bl.a. TD160.
Tonearms-flanger skal sidde korrekt for at opretholde tonearmens geometri korrekt. Vær opmærksom hvis du handler brugt pladespiller, kig ordentligt på billederne. Vi fremstiller til bl.a.: Origin – Hadcock – Audio-Technica – SME – Sølv Note – Linn – Thorens – Helius – Micro Seiki – Signet etc.Se separate annoncer til EASY-FIT Lasercut Armboards m / Højdejustering til andre Thorens modeller, TD160 m.fl.

CORRECT DRIVE BELT: MODELS Directly from the factory specially made upgrade belts – Only at VintageAudio BELT 1: TD2001 / 320 MkIII / 318 Mk.III with the flat drive wheel and 24-pole. MOTOR that all tend to throw the belt at start up. Solution: New Belt 1 with changed elasticity: DKK 149, – BELT 2: TD316-18-20-21-521 TD160 S and others. Thorens specifications are met, just without the white stamp. Fits all motors w / slip clutch -BELT 3: vintage TD160 models with Philips motors often have problems with poor draft during start-up as well as some vibrations. Solution: New BELT 3, diagonal slit, increased width and slightly changed elasticity. All Belts Dkr.: DKK 149, –
DK: KORREKTE REM-LÆNGDER + SPECIALREMME SOM TAGER HØJDE FOR SLIDTAGE PÅ ÆLDRE MODELLER Direkte fra fabrikken specialfremstillede opgraderings-remme – Kun hos VintageAudio REM 1:
TD2001 / 320 Mk.III / 318 Mk.III med det flade drivhjul og 24-pol. motor som alle har tendens til at smide remmen ved opstart. Løsning: Ny rem 1 med ændret elasticitet: kr. 149,-Rem 2: TD316-18-20-21-521 TD160 S m.fl. Thorens specifikationer overholdt, blot uden det hvide stempel. Passer til alle motorer m/glidekobling kr. 119,-Rem 3: Slidte TD160 modeller med Philips motorer har ofte problemer med dårligt træk ved opstart tillige med en del vibrationer. Løsning: Ny REM 3, diagonalslebet, øget bredde og let ændret elasticitet. Pris kr. 149,-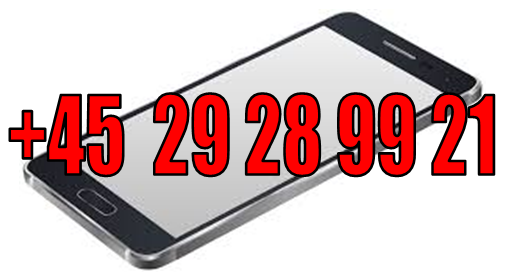 NY STYRING til NY BERGER MOTOR – Eneforhandling: VintageAudio.dk
PROFESSIONELT NYUDVIKLET ELEKTRONISK STYRING samt NY BERGER motor til Thorens TD160-serien. Størstedelen af de op mod 45 år gamle motorer i 140-160 serierne, er grundet deres alder temmelig slidte. De fleste har mislyde som kan repareres og fjernes for en periode, men mange bør udskiftes til nye motorer. Reparation af mislyd: 540,- Holdbarhed anslået + 5 år. En NY Berger-Lahr 12vac motor NYUDVIKLET styring
NY støjsvag PSU: Ialt 2060,- SAMTIDIG får man, på flere modeller, fjernet den gammeldags 220v. ledning fra bagsiden. At sætte 220v. ind i en følsom pladespiller er en dårlig ide, desuden helt unødvendig. Strømmmen skal VÆK fra pladespilleren, så er man helt sikker på at undgå problemer. En ny Berger motor kan motor monteres med mulighed for at stramme remmen. På denne simple måde kan du holde trækket på tallerkenen optimalt i hele remmens levetid. Premotec Upgrade: Se separat annonce – Forhør gerne nærmere pr. telefon: 29 28 99 21 VI BYGGER… VI BYGGER OM… VI BYGGER VIDERE…