UNCONDITIONAL QUALITY SINCE 1975
Auth. Dealer – Repair – Exchange Very experienced service workshop associated with – Update Service is performed, please inquire. At VintageAudio there is always a fair and reasonable price level, also on repairs of the well-sounding German High End amplifiers. Thorens-Restek and Restek are the same, always built at Restek, the appliances were sold for a number of years through a large Thorens dealer network, hence the name confusion. Restek service and repairs are extremely demanding and make very high demands on the repairman. We cooperate with highly specialized and very experienced service workshop in the area and we are happy to provide assistance Restek Update Service in Fuldabrück accordingly.
Forhandling – Reparation – Indbytte
Særdeles erfarent Serviceværksted tilknyttet – Update Service udføres, forhør nærmere. Hos VintageAudio er der altid et fair og fornuftigt prisniveau, også på repararationer af de vellydende tyske High End forstærkere. Thorens-Restek og Restek er det samme, altid bygget hos Restek, apparaterne blev i en årrække solgt gennem et stort Thorens forhandlernet, deraf navne-forvirringen. Restek service og reparationer er yderst krævende og stiller meget høje krav til reparatøren. Vi samarbejder med højt specialiseret og meget erfarent serviceværksted på området og vi yder gerne assistance ifm. Restek Update Service i Fuldabrück.
Restek Update Service:
---
Specifications / Prospekte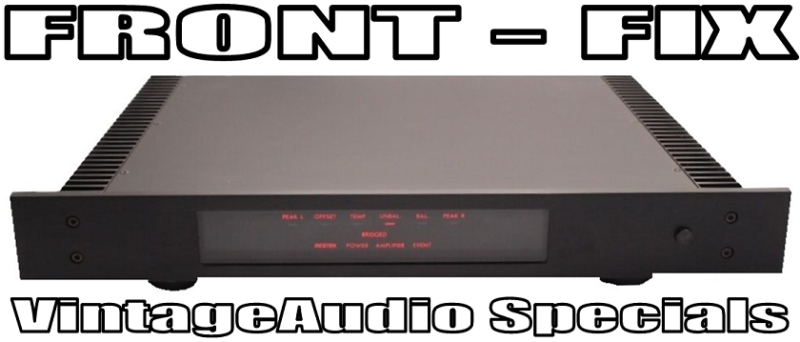 FRONT-FIX: New Lasercut / Anodized Frontplate for I.E. your Restek Challenger, Tensor, Vector, Event, Sector etc. etc.Exchange your Brass/Chrome front with a new Black or Aluminum front. Scratches/Damages eliminated. Here shown in raw Aluminum for a Restek Challenger incl. new Buttons, Price: Dkr. 1100,-
NEW ITEM: Just arrived a Handmade High End preamp BURMESTER w/ Aluminum frontplate:
Super Classic preamp from the well known dedicated Berlin company. Absolutely High End amp with MM/MC RIAA. Though a Vintage model still a Milestone within Burmester foundation models. From dealer, sold Serviced incl. Warranty EU Rules accordingly. Price: Dkr. 8500,-
NEW ITEMS: AVM M2 Next Generation Mono Amps.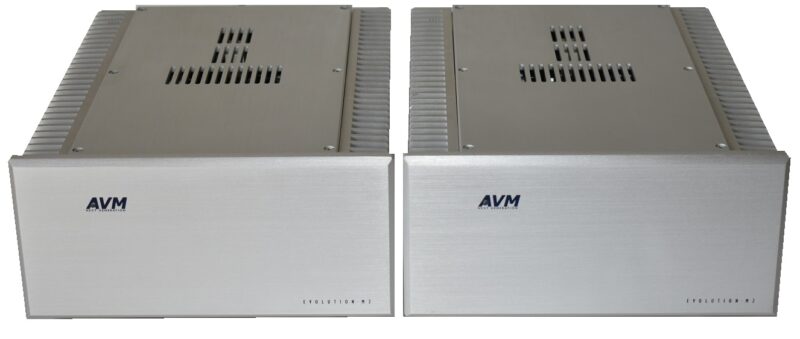 Less than 2 year old Mono Amps soon ready for sale. App. Price: Dkr. 13.860,-
NEW ITEM: Restek Factor 2 x 150w 4-ohm Integrated Condition 9,9/10 (SOLD)

Integrated amp. w/ External and very Powerful PSU. UPDATE SERVICE and near MINT Condition: 9,9/10. MM/MC RIAA. Ready for sale. Price: SOLD
Restek Consens High End Preamp (SOLD)

Condition 9,9 / 10, a single owner, Serviced High End preamp w/ Warranty – Temp. photo. Price: Dkr.: SOLD
NEW ITEMS: 2 x RESTEK CHALLENGER FOR SALE (1 pcs. SOLD)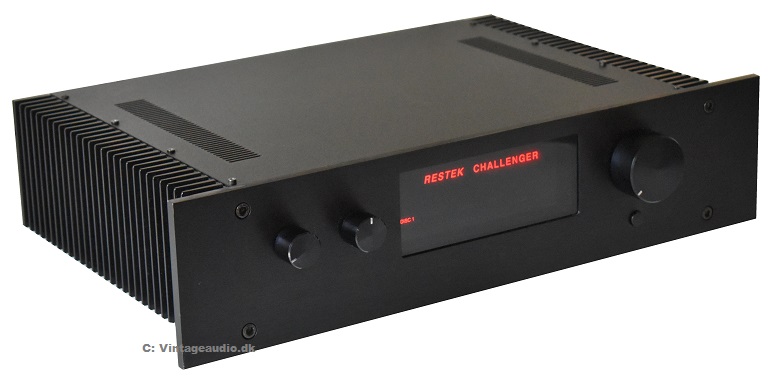 Ready from Service-check a very fine amp. in Condition 9,8/10. Unique sound Classic, shipped Worldwide by DHL IntraShip. No Exchange. (SOLD)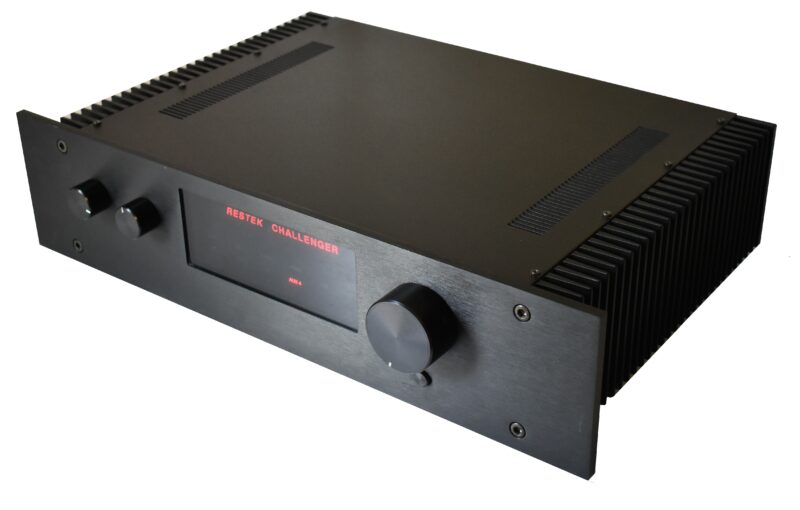 SERVICED and READY CHALLENGER #2: Black Restek Challenger from Customer – Item history known. Serviced / Warranty Price: 8400,-
NEW ITEMS: 2 x RESTEK FACTOR incl. PSU FOR SALE (1 pcs. SOLD)

Handmade High End Integrated Amp. Fine Condition, incl. Excellent RIAA & 2 x 150W / 4 ohm. Very rare item. Price: Dkr.: 7240,-

Number 2 of 2 another Restek Factor. Same as the above: (SOLD)
NEW ITEM: RESTEK SECTOR incl. PSU FOR SALE (SOLD)

German Handmade High End preamp in Serviced Condition 9,8/10. (SOLD)
NEW ITEM: Trigon SnowWhite II pre w/ Update Service:

TRIGON SNOWWHITE II – High End preamp w/Update Service:
From Auth. Dealer the well known SnowWhite, her in Version II wich includes XLR Connectors.
Updated at Trigon.de and sold incl. Warranty. Price: Dkr.: 7200,-
NEW ITEM: Restek V2 pre + MMA-5 mono amps incl Service / Upgrade: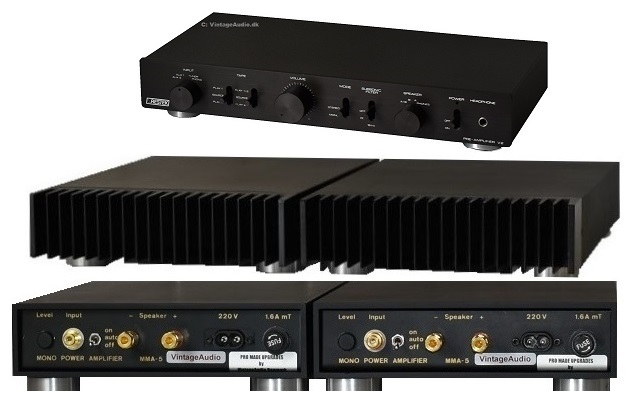 Mono amps: New Capacitors / Gain removed due to elimination of loss in Signal. Serviced June `19. V2 pre Serviced accordingly. Condition: 9,8/10. PSU incl. Dkr.: 8400,-
NEW ITEM: Bryston 1B pre incl. RIAA and Service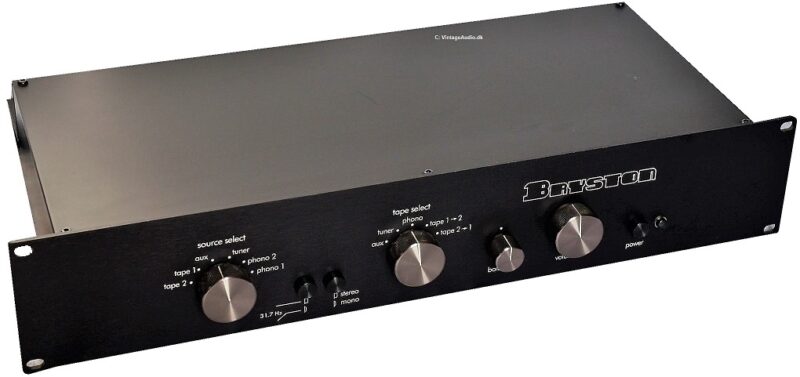 Very rare model from Bryston. New Potentiometers, Relays etc. Condition 9,7/10 – Advert Expanded soon. Price: Dkr. 3950,- / EUR 530,-
NEW ITEMS: Restek mma-5 Mono amps – 3 sets (ALL SOLD)
ALL SOLD – 3 x SUPER CLASSICS ready for sale. Legendary Handmade Restek mma-5 Mono Amps in both Serviced and Updated Versions. Always buy Restek from Authorized shops – Advanced handmade electronics best Serviced and kept Original by experienced personnel.

New Items: Serviced set Restek MMA-5 Mono Amps.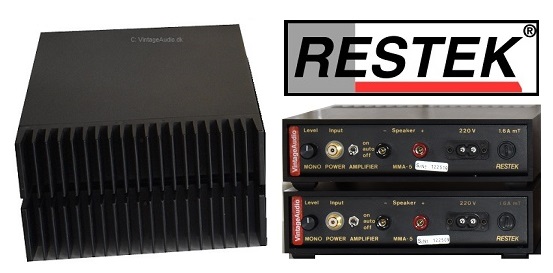 Restek mma-5 mono amps for sale. Pro Serviced and Refurbished w/new Capacitors. Price incl. Warranty: 5800,-
NEW ITEM: Harman Kardon CITATION Twenty-One & Twenty-Four, Serviced Condition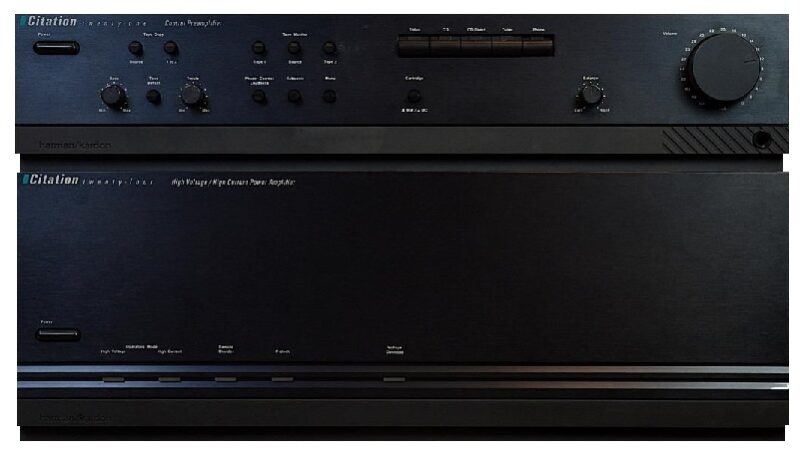 NEW ITEM: CITATION Twenty-One & Twenty-Four Classic Amp set in Serviced Condition: 9,7/10.
Harman Kardons Classic amp set with pure American sound, lots of Dynamics og extraordinary powerful Power Supply. Both items Pro Serviced June `19, and the set presents itself in very fine Condition. Ny Scratches etc. on fronts. Preamp 21 with built-in double RIAA, MM/MC. Items from known Customer, can be checked/delivered in areas 7700 and 4700. Set sold in Private Commission – VintageAudio guarantees present description. Price: Dkr. 4900,- / EUR 650,-.
VERY RARE CLASSIC RESTEK AMPS (SOLD)
Restek V2 Pre + V-MOS Power FET mono amps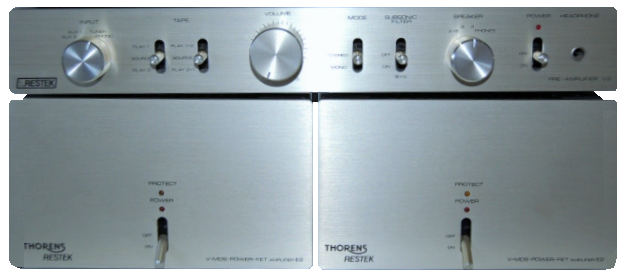 EXTREMELY RARE Restek Vintage amp set. Advert expanded as soon as possible. Sold Serviced. Price: SOLD
Restek Event Power Amp, Chrome w/ Update Service

External Heavy Duty Power Supply built w/ 2 x 150 W / 4 ohm makes this elegant amp. the perfect match for a Vector preamp. Special Order – Item Sold

Trigon Audio Handmade in Germany
TRIGON HIGH END
Gennem en del år har vi forhandlet de fine håndbyggede Trigon forstærkere – Som bekendt, nært beslægtede med Restek jvf. tidligere sammenfald af konstruktører.
TEST SnowWhiteDwarf

Trigon Manuals

TRIGON DEMO SALE – ADVANCE – VANGUARD II – VANGUARD II
Advance in Aluminum (SOLD) and two Vanguard II in Black. Demo models w/ Full Warranty, No Exchange. Advance Dkr.: SOLD – Vanguard II Dkr. 3200,- / pcs. Org. box incl. 1 pcs. Vanguard II
PROFESSIONAL VINTAGE AMPLIFIER SERVICE / REPAIR